Temple and Shrine Stamp Books
Japanese accordion notebooks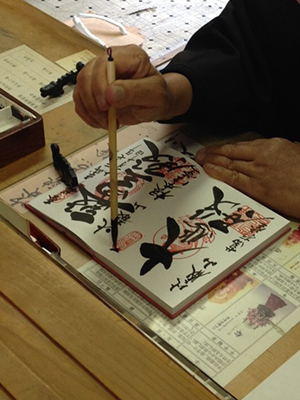 Temple and shrine stamp books are used to collect red stamps that are received when visiting a temple or shrine. The pages are double-leaved so that the stamp ink doesn't bleed through. Thanks to the accordion folds of this book, you can spread out the pages to see all the stamps you've collected. Each temple and shrine has a unique stamp. When you receive a stamp it is overlaid with "sumi-gaki", which are unique kanji-characters written in sumi-ink. These stamps and "sumi-gaki" are in beautiful harmony like a work of art. Be sure to pay your respects at the temple or shrine's main hall before getting a stamp.
List of Temple and Shrine Stamp Books
Temple and Shrine Stamp Books Cloth Cover

Made from fabric with nep yarn. Pleasing yet simple texture and color have made this product a long-seller.

Temple and Shrine Stamp Books Yuzen Paper Cover

Uses Yuzen Paper for the cover. A plastic coating prevents discoloration and provides moisture protection while preserving the texture of Yuzen Paper.

Temple and Shrine Stamp Books Cloth Cover Kimono Pattern

A stamp book with a kimono motif. The decorative cord button, made to look like a kimono waistband fastener, and rubber belt band can be fastened so that the stamp book does not open unintentionally.