Shikishi Paperboards and Ink Painting Papers
Shikishi Paperboards
Paperboards for a variety of creative uses and styles
Shikishi Paperboard is for painting, writing, calligraphy, illustrations, autographs, waka/haiku poetry and more. It is said that this kind of paperboard originates from the Heian and Kamakura period (8th to 14th century), when upper-class people wrote waka poetry on square pieces of colored paper and stuck them to shoji sliding doors or folding screens. It is not clear when the present form began, where the core paper is pasted between 2 other sheets of paper. Shikishi paperboards have a variety of sizes and are produced by all Japanese manufacturers with the same standardization.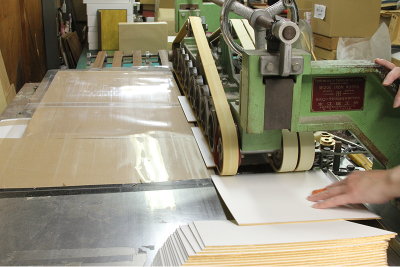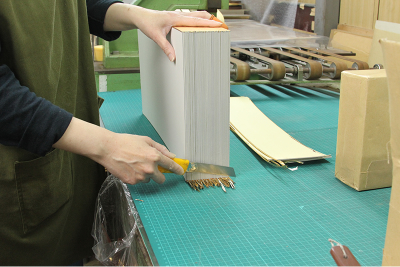 It is composed of three layers: the front paper, core paper and back paper. The core paper is made from eco-friendly recycled paper. Gold aluminum tape is attached to the edges of the paperboard. This tape brightens the paperboard and brings the work up a notch. There are many kinds of front paper so that the right one can be chosen depending on the context. The appearance of colors and the way they run on the paperboards depends on manufacturing processes, fiber length and so on.
Based on this understanding, many people choose a type that suits their painting materials and methods. We have included sample images of how colors run on each paperboard, so you can see these differences.
Ink Painting Papers
Washi that is great for color gradations used in ink and watercolor painting
Ink paintings are done in one color (black). The movement and strength when drawing with a brush are used to express shades, blur, spreading, gradation, and faintness. Instead of faithfully drawing the object, its features are emphasized with bold strokes, effectively using the margin and creating a feeling of dynamism and infinite expanse. Besides working in monochrome, Ink Painting Paper can also be used for multicolored drawings. Enjoy its high flexibility for expressing various styles.
Ink Painting Paper

Paper from Bamboo Pulp with Gampi. Suitable for ink and watercolor painting. Great for color gradation, light and shade. Natural white. Made from bamboo pulp with gampi. Recommended for practicing. <Ink Spreading Level> Very High