Lacquer Paper Items
Beautiful and durable modern Japanese items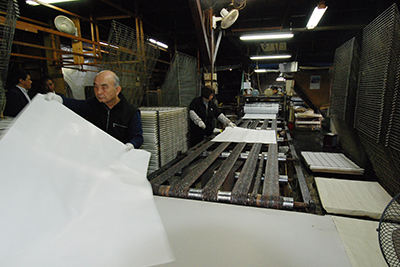 This box is made from "lacquer paper," or embossed kraft paper that has been lacquered several times. Lacquer made from Chinese lacquer trees was used until the Taisho period (in the early 20th century), but now cashew paint is applied because it is easy to handle and doesn't cause skin irritation. This paper is almost entirely hand-made by artisans. It has a unique feel and texture that combines traditional beauty with durability, giving it a tasteful warmth.
List of Lacquer Paper Items
Lacquer Paper Stationery Box

Stylish accent colors. Great as an interior accessory. This box is perfect for storing items dear to you.

Lacquer Paper Stand for Glasses and Smartphone

As well as glasses and smartphones, it can also store pens and remote controls.

Lacquer Paper Hardcover Notebook (B6)

A sturdy B6-size hardcover notebook.

Lacquer Paper Pen Stand

The drawer is convenient for erasers, USB memory sticks and other small items. Great for keeping your desk tidy.

Lacquer Paper Pen Tray

As well as pens, it can also store jewelry, keys and so on.